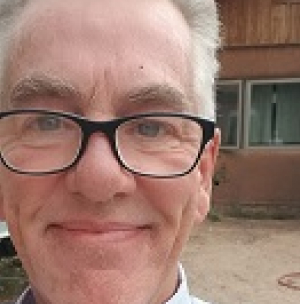 "Robotics in High School"
10:15
Russ Fisher Ives (USA) - President/Founder, Inquiry Facilitators, Inc. 501(c)3 Enhancing STEM education Global Ambassador/Founder, RoboRAVE Intl
EDUCATION
B.S. Geology 1975-76, 1978-81 University of New Mexico, Albuquerque, NM Secondary Ed., Science & Math 1983-1984 University of New Mexico, Albuquerque, NM
PROFESSIONAL EXPERIENCE
President and Founder, Inquiry Facilitators, Inc., 2005 - Present
Global Director/Co-Founder, RoboRAVE International, a robotics education & competition program Principal duties for If inc. are to develop, facilitate, and implement programs for our mission to "Enhance STEM education through academic competition, support of student research, and teacher professional development". Activities that supporting this mission include developing and coordinating an international network of robotics programs in 17 countries on 5 continents; Co-Chair NM Host Committee 2007 Intel International Science and Engineering Fair; support for HS student research projects, hosting the annual RoboRAVE International, and K-12 math & science teacher professional development workshops (i.e., BIG BOOK co-author for mathematics Common Core, BIE Math consultant, Bootcamp for Teachers, Intel Math, iTeachNM).
November 2014 - November 2015; STEM consultant, Santa Fe High School, Innovation Academy
August 2013 – May 2014; Math consultant for South Valley Prep, Albuquerque. Middle School grades 6-8.
eptember 2012 – present; Conducting RoboRAVE Colombia – an educational and competitive program for kids in conjunction with Pygmalion Inc.
February 2012 – August 2013; Facilitated six Northern New Mexico College teams how to implement robotics for the DOD funded Accelerate Program ( to assist adult students with math remediation)
April 2010 – June 2012: Co-facilitated the 80-hour Intel Math program for 4 different groups of New Mexican K-12 educators
November 2008 to 2012; Consulting for the Secretary of Education, Medellín, Colombia via Parque Explora and Escuela del Maestro to transform traditional teaching to investigation based instruction.
August 2007 –April 2011; Served as a K-1
2th grade math consultant for Bureau of Indian Education (BIE) schools
(NM - Tohaali Community – Eastern Navajo, Santa Fe Indian School; AZ - Tohono O'odham HS, Santa Rosa Ranch, San Simon and Santa Rosa Boarding, and MI – Hannahville Nah Tah Whash Academy).